Spring break with friends is a tried and true tradition, but you don't need to head out to where it's party central to have a fantastic time. If you and your friends instead want to go where you can get thrills, see live shows, eat amazing food, and have experiences you cannot have anywhere else, then Orlando is the place to be. Not only are there world-famous resorts, but there are also so many eating and shopping opportunities to make your experience special. 
Things to Do in Orlando 
There are many things to do in Orlando, with these being the top exciting destinations to focus on: 
Walt Disney World is one of the best Disney resorts in the world and will completely blow your mind with rides, the characters, and the overall experience. With Disney owning so many beloved IPs, including Star Wars and Marvel, there truly is something for everyone. 
Universal is another massive entertainment studio and a top choice for many visiting the area. The good news, of course, is that you don't have to pick one over the other. You can book day trips and spread out your time between all the top theme parks and activities. 
SeaWorld is a great place for a day visit and offers so much more than the chance to look at sea life up close. There are also rides, dining, and shows to enjoy. 
Disney Springs is a shopping and entertainment neighborhood that is ideal for friend groups. You'll find great eats, live shows, and plenty of opportunities to find a souvenir. 
Gatorland is a massive 110-acre theme park and wildlife preserve in Florida and a great place to see animals up close and live. As a theme park, it also offers many experiences, including shows and even the Gator Night Shine, which lets you experience wildlife after dark. 
How to Plan a Group Trip to Orlando 
When it comes to planning a large group event, it's important to keep in mind everyone's budgets and what everyone wants to do. You don't need to stay in one large group the entire time! 
Plan out what you want to do and who wants to go with you. Some may prefer going to Disney instead of Universal, and others may want to spend time at one of the water parks instead of the theme parks. By splitting up, you can organize a great trip where everyone is excited. 
When it comes to your budget, aim to pool your money together. Getting just one suite that can house everyone, for example, is going to help you save overall – particularly as large villas or even townhouses come with a kitchen. 
Top Hotels for Groups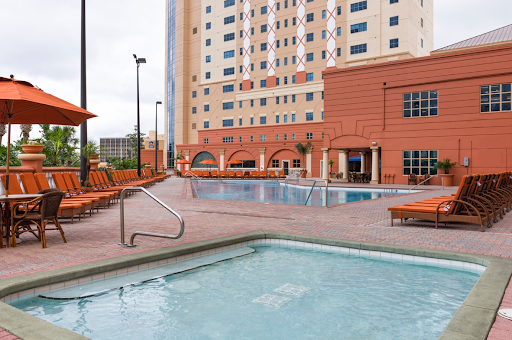 Source: Facebook, posted on December 4, 2020, Westgate Palace Resort's official profile
This stunning resort features newly renovated two-bedroom suites that can sleep up to six. 
If you have a smaller group of six, look no further than Westgate Palace Resort. This hotel has recently been renovated and offers modern, luxury design through and through. Each two-bedroom suite has a large king bed, two single beds, and a double sofa bed. You'll also have access to your own private kitchen and bathroom. 
This hotel near International Drive is right around the corner from Universal Studios. The hotel itself has a spa, pools, and a full marina as well, giving you many on-site ways to relax and enjoy yourselves.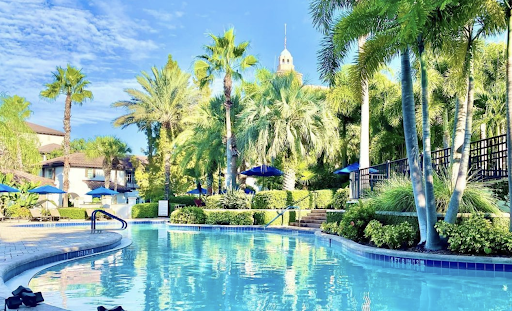 Source: Instagram, posted on November 16, 2021, Marriott's Lakeshore Reserve official profile
Marriott's Lakeshore Reserve 
Stay in multi-level townhomes or villas during your stay at Marriott's Lakeshore Reserve in Orlando. 
Stay in 2 and 3-bedroom multi-level townhomes or 1 to 3-bedroom villas when you book at Marriott's Lakeshore Reserve. This resort comes with a golf course, on-site restaurants, cafes, and barbecue grills you are free to use. This option is ideal for group sizes up to 12.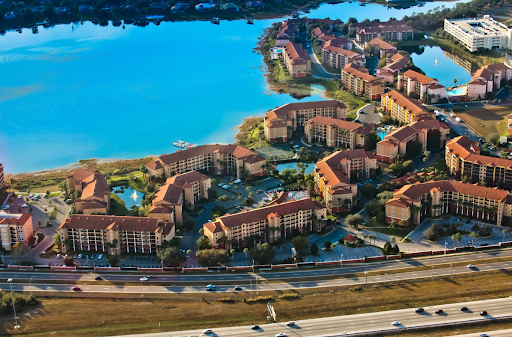 Source: Facebook, posted on January 27, 2012, Westgate Lakes Resort and Spa's Official profile
Westgate Lakes Resort and Spa 
Stay in a massive condo-style villa that sleeps up to 16 guests, all less than 2 miles from Universal Studios. 
This resort can sleep up to 16 guests in one villa, making it a great choice for large groups that want to stick together. It's also in one of the best positions to do it all. You will be less than two miles from Universal Studios, SeaWorld, and Orlando Convention Center. Want to go to Disney World? Don't worry, as it's just five miles away. 
There are also many shopping and dining options available just a short walk away, and if you don't want to leave the resort, there is the Smokehouse Grill, Sids Deli, and pizza pickup and delivery. 
This resort features seven pools, a marina you can kayak, and a mini-golf course to keep everyone entertained.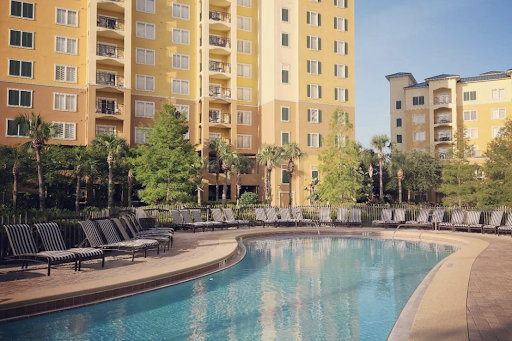 Source: Instagram, posted on July 15, 2022, Lake Buena Vista Resort Villa and Spa's official profile
Lake Buena Vista Resort Villa and Spa 
Stay in spacious one to four-bedroom condos when you stay at Lake Buena Vista Resort Villa and Spa.
Stay in one to four-bedroom condos and be just two miles from Walt Disney World when you book your vacation at this resort. On-site, you'll find a zero-entry pool, Jacuzzis, poolside loungers, and everything else you'll need to enjoy a relaxed, comfortable stay with your friends. The largest condo, the four-bedroom option, can sleep groups of up to 10.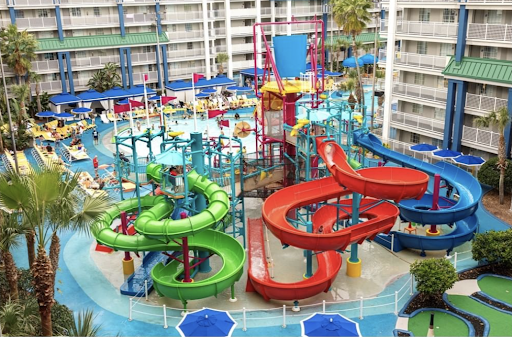 Source: Instagram, posted on March 9, 2020, Holiday Inn Resort Orlando Suites' official profile
Holiday Inn Resort Orlando Suites 
Stay in a suite that can hold up to eight adults and be just a few minutes from Walt Disney World. 
This is a budget-friendly option that can sleep up to 8 adults per room. You'll be just a few short minutes away from Walt Disney World resort. Don't worry about getting to the resort, however, as there are free shuttle services to the theme park every day, included in the price of your room. 
You'll find it a few steps away from International Drive, and as a result, in good proximity to many attractions like Orlando Science Center, Gatorland, Discovery Cove, and Aquatica.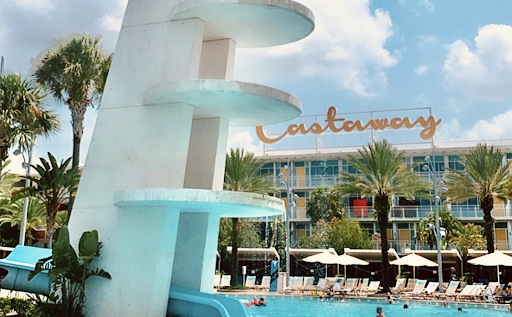 Source: Instagram, posted on August 11, 2022, Universal Orlando Hotel's official profile
Stay with up to six people total in a retro-themed suite at Cabana Bay Beach Resort in Universal's theme parks.
There's something truly timeless about this retro-themed hotel and resort. You'll step back to a time when maximalism was at its finest and have a luxurious experience to boost. The largest rooms can sleep up to six people, and you'll get many perks for choosing this option. As it's located inside Universal Studios, you'll be steps away from all the action but won't have to go that far for some fun. This resort has a pool, a bowling alley, a lazy river, and even waterslides.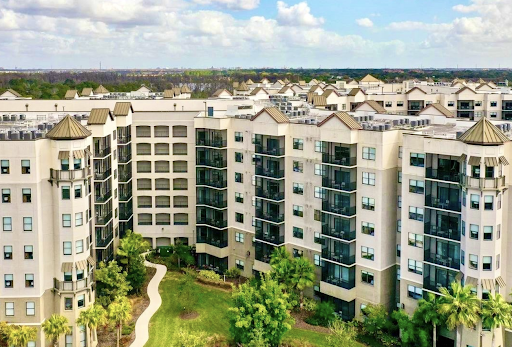 Source: Instagram, posted on March 10, 2022, The Grove Resort and Water Park's official profile
The Grove Resort and Water Park 
Stay in suites that fit up to eight adults and be just 15 minutes away from all the thrills at Disney World. 
This hotel lets you sleep up to eight adults in one suite, letting you split the cost at a very affordable rate. It's just 15 minutes from Disney World Resort, but you won't feel like you're in the thick of the commotion. As this resort is in a residential area, you'll enjoy the peace and quiet instead. 
The resort also has its own water park, so you don't have to go far, nor do you need to splash out for another park pass to get some thrills at the pool. The Surfari Water Park is actually a fan favorite, and offers slides and many other fun water thrills to keep you and your friends entertained while on a budget.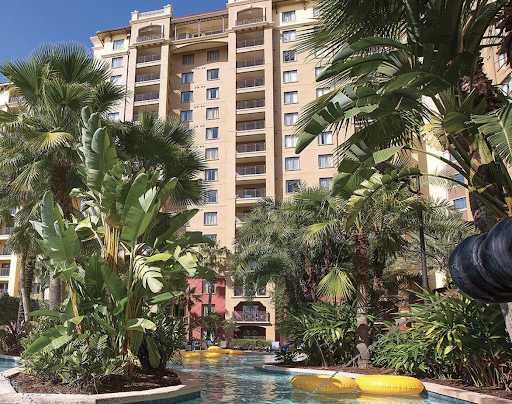 Source: Instagram, posted on December 28, 2015, Club Wyndham's official profile
Club Wyndham Bonnet Creek
This resort can fit guest groups of up to 14 people and has optional shuttle services to the theme parks nearby. 
You can sleep up to 14 guests at this Club Wyndham in Bonnet Creek, and save as it's not an official Disney Resort hotel. Though not an official partner, it is very close to the action and offers a low-cost shuttle service to get you to the front gates of Epcot and Disney's Hollywood Studios. 
When you stay, you'll have a choice of suites from one to four bedrooms. All suites come with a full kitchen, so you can prepare meals and save big on your trip. You'll also have your own washer and dryer and a furnished balcony. 
You'll find an on-site restaurant, café, pool with a lazy river, waterslide, hot tubs, and more at this hotel to keep everyone in your group busy and entertained.